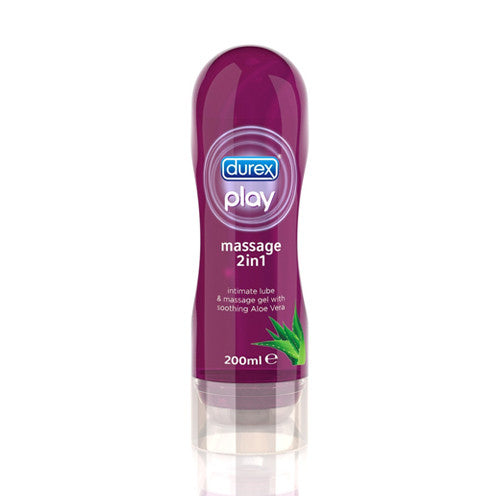 Play Massage 2 in 1 - Soothing
---
---
is back-ordered. We will ship it separately in 10 to 15 days.
---
---
Now you can enjoy a sensual silky smooth massage gel that can double-up as an intimate lubricant. It's sensitive enough for all-over use and it now contains Aloe Vera for skin health and nourishment. These benefits which have been practiced for thousands of years are now available to enhance your massage experience with your partner.
It's light and non-greasy, whilst being gentle enough for both a full body massage and usage in intimate areas.
This product is ideal for those looking for a lubricating massage gel without any smell as the Aloe Vera has a unique property of being fragrance free.
Instructions: To use this product, just remove the cap and gently squeeze + the massage 2 in 1 in your desired location.
Massage 2 in 1 Aloe Vera is water soluble and easily washed off. The product also won't stain.
It is best to avoid contact with your eyes. 

If you experience irritation, stop using the lube. If irritation continues or if additional lube is required all the time, contact your doctor.
Play Massage 2 in 1 – Aloe Vera is best stored in a cool dry place away from direct sunlight. Use within three months of opening. Whilst safe to consume, this product is best kept away from children.
Using lube: Many people think that lube is something you only need to use if you're too dry down below. However, it can make almost all sex better for men and women alike.
There are three main types of lube: water based, oil based and silicone. Water based is the most common and can be used for anything. However, it can dry out over time (though you can use a water spray applied locally to reactivate it and make it last longer). Oil based lube isn't condom safe but is super slippery. Silicone lube offers the best of both worlds, being super slippery and condom-safe.
Lube is great for masturbation, whether you're male or female. That slippery friction adds extra sensation.
Different lubes suit different people so try a selection to work out which one is best for your body.
Massage oils can break condoms so stay safe by using lube instead.
Using your hands to play with your boyfriend or girlfriend? A squeeze of lube will make it easier for you and better for your lover.
Like to use your hands and your mouth at the same time? Opt for a flavoured lube to make things taste as sweet as a strawberry or as fruity as passion fruit.
Sex marathons benefit from added lubricant. See it like a pit stop - if you top up on lube as you go along, you'll keep your motors running.
Chafed from sex the morning after but still want to keep on going? Lube will help reduce the friction burn.
Want to mix things up? The skin is the body's biggest erogenous zone, so try drizzling lube over your lover's body.
---
Share this product
Play Massage 2 in 1 - Soothing
has a rating of
4.6
stars based on
17
reviews.
---
---