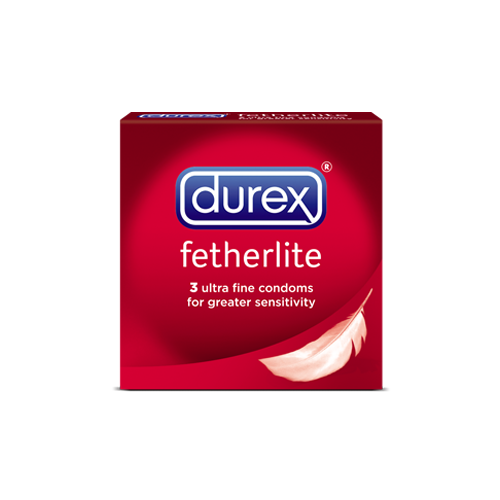 Durex Fetherlite
---
---
is back-ordered. We will ship it separately in 10 to 15 days.
---
---
Bringing people closer together, Fetherlite condoms are the thinnest condoms in the Durex latex range. Still providing the same high level of reassurance and protection, they're shaped to be easier to put on and provide a better, sleeker fit and feel during sex.
Text on pack:
3 super fine condoms with sensi-fit for even greater feeling where it matters
100% electronically tested
Smells better
Super fine natural rubber latex condoms, straight walled and teat ended, transparent and lubricate, nominal width: 56mm
Durex Fetherlite Ultra condoms are super fine with sensi-fit for even greater feeling. They are on average 20% thinner than our standard latex condoms while still providing a high level of security and protection. All our latex condoms exceed the ISO4074:2002 International Quality Standard for male natural rubber latex condoms.
Please read the leaflet inside the pack carefully
Using a "Play" lube from Durex with condoms can enhance sex. All "Play" lubes from Durex are condom safe, unlike oil-based lubricants which can damage condoms.
No method of contraception can give you 100% protection against pregnancy, HIV or sexually transmitted infections.
Use a condom only once.
---
Share this product
Durex Fetherlite
has a rating of
4.8
stars based on
43
reviews.
---
---